Teachers:
Miss Vettese
Teacher: Hazel Class
• I love to paddleboard. • My favourite food is Italian - where my family originates from. • I hate baked beans, even the sight of them makes me shiver. • I like to watch crime documentaries.
Mrs Wilhem
Teacher: Hornbeam Class
TAs:
Mrs Wheeler
TA: Hazel Class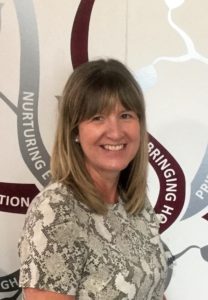 Mrs Hale
TA: Hornbeam Class
Alongside the learning that takes place in Year 5, our main aim for all of the children is for them to enjoy themselves, to continue to develop good social skills and to develop an independence that will stand them in good stead for Year 6 and beyond. We deliver the curriculum in a variety of ways to make learning interesting and fun for the children. For example, we try to be creative and flexible in our use of ICT and Art to enhance the learning in other subjects.
Other activities that Year 5 children will be involved in during the year include:
Visitors throughout the year
A stargazing evening
A Viking Invasion
Many Science investigations
Communication between home and school is crucial throughout your child's time at school and though we appreciate that as your child gets older you may not pick up your child from the classroom door, you can remain in contact with us easily through Class Dojo.
Our door is always open!
Please remember:
your child needs a clear, re-usable plastic bottle filled with water for use in the classroom
PE kit must be named with appropriate footwear and worn on class PE days
School dinners are now cashless for non free school meal children. Please speak to the office for further information if you have not set this up.
Book bags must be brought to school daily.