Our Computing Vision - Computing is a life skill so lessons should be meaningful, and relevant to daily life. Computing should be safe. Computing should be challenging with high expectations. Computing should be fun.
At Sandown Primary School we have a challenging, meaningful and relevant curriculum to equip our children with the digital skills they need for their futures.
In addition to our normal class curriculum we participate in events such as UK Bebras, Hour of Code and Safer Internet Day.
We also have our specialist Digital Leaders whose role is to assist pupils with any internet safety questions they may have and to help them stay safe online.
Our Computing Curriculum is broken down into 3 sections:
Digital Literacy 
How to understand and present digital information as well as interact with it safely and appropriately.
Computer Science 
How computers work, how to write algorithms and solve problems to create a computer programme.
Information Technology
How data is represented and managed on computers. This can then be broken down into the following 4 strands:
1. E-safety
How do we use technology safely, respectfully and responsibly
Where do we go for help and support?
What should we keep private?
What are algorithms and how will they help us solve problems?
How can we develop logical thinking to explain and correct errors in algorithms and programme
2. Online
How do computer networks work?
What can we do on the internet?
How can we communicate and collaborate with others?
How do we search for and retrieve digital content?
How do we evaluate digital content?
3. Presentation/ Maths/ Images
How do we use technology purposefully to create, organise, store, manipulate and retrieve digital content?
4. Programming 
How do we create and debug programmes?
How do we sequence, selection and repetition in programmes?
See our computing curriculum map
Digital Leaders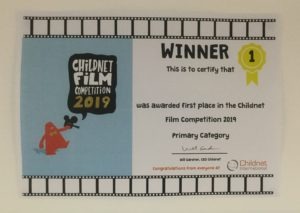 Childnet held their annual film competition in July 2019. Their competition invited all young people aged 7-18 to take on the challenge of creating a short film about internet safety. All films were asked to showcase positive and inspiring use of the internet and clearly reflect their childnet theme.
The judging panel looked out for films which were the most creative, inspiring and had a clear message. The three selected finalists from both the primary and secondary age category were then invited to a private screening at London's BFI on the 2nd July.
Over a hundred films were submitted to the Childnet Film Competition 2019 and the judges had to shortlist them down to the top 3 entries in each category. These films were shown at a private screening at the BFI, where the judges had to award 1st place, 2nd place and 3rd place winners!
Sandown placed 1st!!!!!
See their award-winning film:
Well done Sandown!
Extra-curricular
In addition to Computing lessons, pupils are given the opportunity to take part in extra-curricular activities such as Computing Club and we also have our specialist Digital Leaders whose role is to assist pupils and staff alike. We've also held 'Code Camps' during the school holidays.
For additional information about this subject, please contact the school office and ask to speak to the subject leader.